Primary Research for company data in Europe
Available online through your browser or via API, Valu8 Company Intelligence is a tool for sourcing and analysing private companies.
Originally launched in 2011, Valu8 has been constantly improved through innovation and active customer interaction, with additional features and data sets added on a regular basis.
With more than 350 organisations using our platform we offer a personalised product that meets the specific needs of each user and can be customised for different industries or segments.
Our interactive dashboards give a visual overview of entire sectors and geographies, as well as all the underlying industry companies.
Our machine learning-based scatter diagrams give a 360 degree of your chosen criteria and provide unique clusters of similar companies combining new data layers with traditional company data.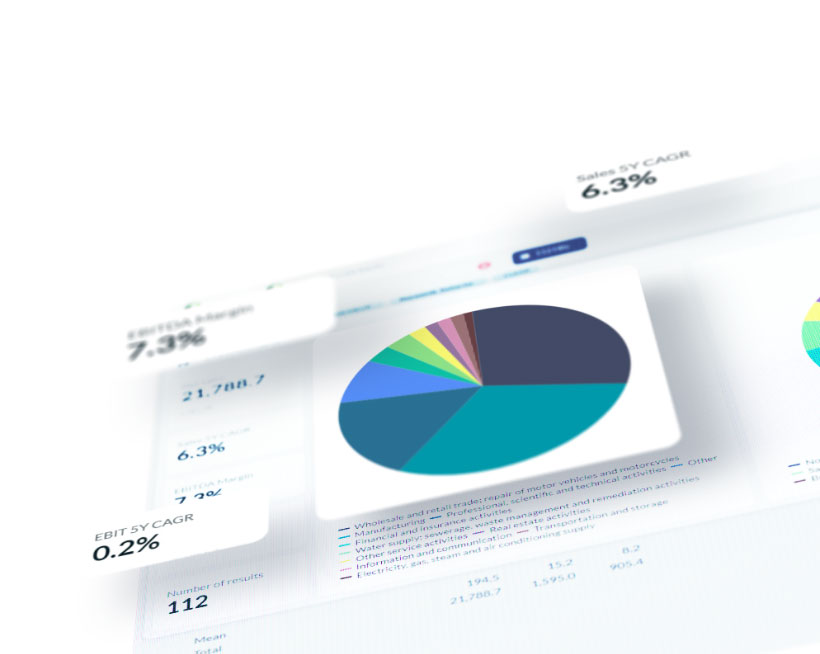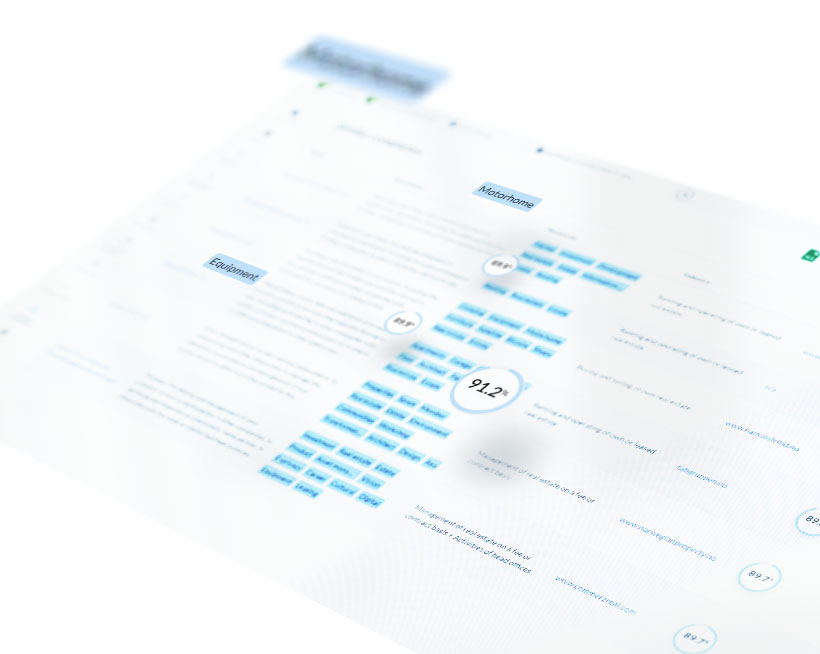 Uncover new target companies with our AI powered similarity scoring system, giving a competitive advantage to our users to source companies' others may miss.
Strategy, Origination & execution
Our customers use Valu8 at all stages of the deal lifecycle, from the strategy to the execution phase.
Navigate easily through the entire European company universe to narrow your search.
The Valu8 platform offers more than 900 selectable search parameters, enabling the advanced screening capabilities needed to navigate and short list of truly relevant companies within the vast universe of millions of private companies.
Advanced sector and company analysis
Unearth the entire universe of your chosen sector using a mix of traditional data and new technology.
GP, Private Equity, Sector & Venture Capital analytics covering transactions, deals and markets.
Perform valuation analysis of comparable listed companies or M&A transactions.
Follow and share workspaces
Track changes to entire sectors or shortlists, including new entrants and company changes.
Alerts feature to notify of changes at macro and micro levels with the ability to create shared workspaces within your team.
Export, Update and Batch search functionality
Flexible data output functionalities and automated MS Office/Excel updates and export function.
Review existing markets and sectors and identify new ones that spark your interest.  Track new entrants to the market and significant changes with real time alerts.
Private Equity/Venture Capital/M&A Newsletters for Nordics, DACH & UK delivered throughout the week.
Valu8 combines over 40 traditional company databases with non-traditional and unique data layers, enabling more advanced search functionalities and data sets.
Our comprehensive company data coverage ensures a complete picture of the European market covering more than 70 million companies in Europe. Users can tailor their content coverage by region and receive transaction e-mail newsletters.
Explore our separate business area Valu8 Ownership information focusing specifically on ownership and beneficial ownership data and serving the Nordic and European KYC and AML markets.
M&A and Private Equity transaction database
Explore our extensive mergers and acquisitions and private equity transaction database and tailored daily or weekly transaction newsletters.
Private equity & Venture capital portfolio database
Track holdings and activity of private equity and venture capital firms.
Access to global coverage of company fundamentals and consensus estimates by equity analysts,